Everest Base Camp Trek 2023 / '24
A 4 week trekking itinerary accompanying Everest expedition members to EBC.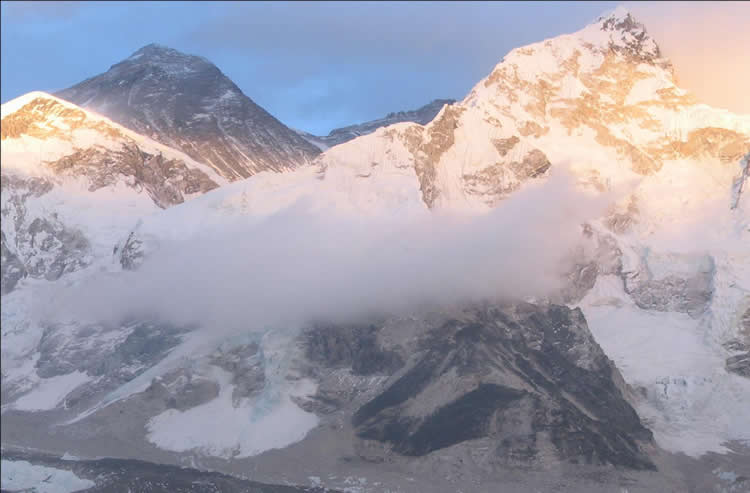 If Everest isn't really your thing … but you would like to come on a trek in The Everest region then this 4 week itinerary could well be right up your street. This is a specific itinerary for my group of potential Everest summiteers and is very carefully chosen to make sure that they arrive at Base Camp fit, health and acclimatised. So if it is good enough for them it is definitely good enough for you! The days are reasonably short so that maximum enjoyment can be attained whilst making sure that people aren't over exerting.
Not only that it provides one of the best itineraries in The Khumbu. This schedule takes us away from the really busy routes whilst trekking over some high passes and taking in a few very easy trekking peaks with unparalleled views and vistas all the way.
No previous experience is required … walking is a transferable skill. If you have hiked in The Lakes (or anywhere in the UK for that matter) then you can hike in Nepal. Indeed the trails are better than most mountainous areas in the UK.
---
Day 1 (26th March 2023) – Arrive Kathmandu (KTM). You will be met at the airport and transferred to a 4* Hotel on the outskirts of Thamel. We will then pop in to town for our first group meal (meals in Kathmandu at the start of the trek are included in the cost of the trip).
Day 2 – Sightseeing trip in the morning (transport, guide and all entrance fees are included). Meet for lunch. Sort gear / final preparations for the expedition in the afternoon.
Day 3 – Early morning flight to Lukla (2,800m). This is the flight of a lifetime. After our early morning departure we'll arrive in Lukla and transfer to our lodge for breakfast. After sorting the gear in to loads we start trekking. We follow the easy trail, stopping for lunch along the way (again all meals en route are included in the price) and gradually descend in to the valley bottom. We use teahouse accommodation for the trek in and our first stop is at Phak Ding (2,650m). Around 4 hours of easy trekking.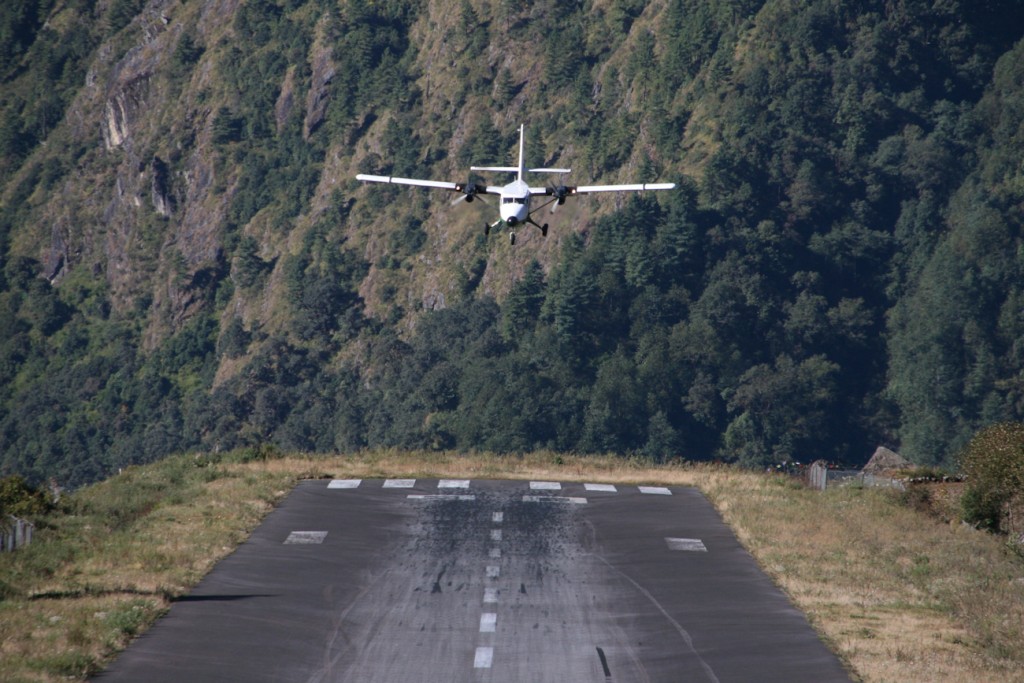 Day 4 – After breakfast we start on the trail along the side of the Dudh Kosi (Milk River) which originates from the Khumbu Glacier some 30 miles away. We cross the river 4 times on the route today on some quite exciting (but very well constructed) suspension bridges. We enter the National Park at Monjo and then make our way gradually up the zig zags to Namche Bazaar (3,450m).  In Namche Bazaar we convene at the Everest Bakery for Coffee and Chocolate Doughnuts and then continue along the trail to stay with my good friends Tashi and Lakpa at Kyanjuma. All in all about 4 and a half to 6 hours of walking. (Interesting point to note … Tashi & Lakpa visited the UK in January 2014 for an audience with HRH The Prince of Wales. Lakpa was one of the Sherpas when Prince Charles visited Nepal in the 80s and was invited for an audience with His Royal Highness at Clarence House).
Day 5 – A rest day. But when we say rest day it merely means that we will stay at the same teahouse – in the meantime we will go up an exciting 'hidden staircase', an amazing construction, and follow the trail to the Mong La (3,950m) where we will have lunch. We'll then descend back down to Kyanjuma in time for afternoon tea. At some stage today we'll also visit Tashi's amazing prayer room.
Day 6 – Today we transfer to Thame. We go up to Kyanjuma and see the amazing Mani walls (the longest mani walls in The Khumbu) and then crest a col and drop down to Syangboche where we stop for elevenses. We then follow a great trail through a beautiful, wooded valley, to Thamo, where we stop for lunch before continuing to Thame (3,800m). Around 6 to 8 hours of easy walking.
Day 7 – Another rest day. But again, it doesn't mean that we rest. Today we go to the most amazing monastery, set in the hillside a short walk above Thame. There are some fantastic painted mani stones along the way and we visit the monastery. After that we then take a hike to gain some elevation reaching around 4,800m or so before descending back to Thame.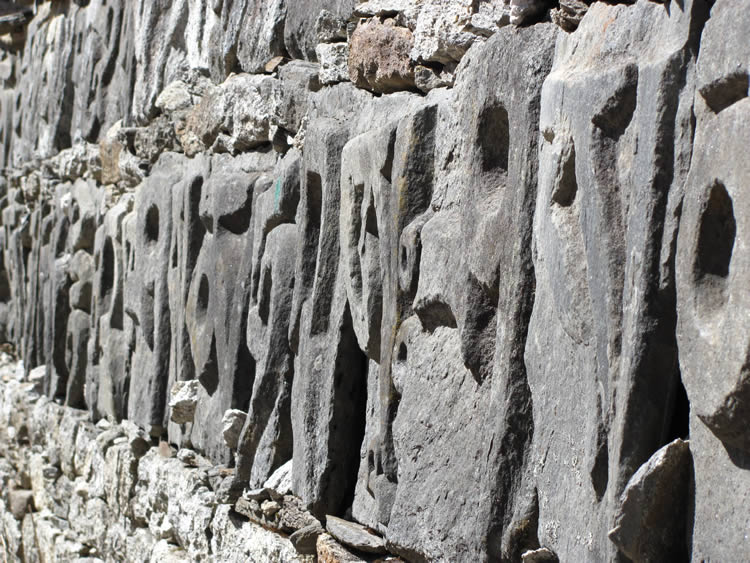 Day 8 – A lovely walk up the quiet Thame valley to the village of Marylung (4,150m). A short day (around 3 hours of walking).
Day 9 – Another acclimatisation day where we trek up to around 5,000m before dropping back down to stay for another night at Marylung.
Day 10 – Today we cross the first of the high passes – The Renjo La. It is an easily accessible pass with a great staircase – but it is at 5,345m and the altitude will make it slow going. The views when you get there are well worth the effort involved. After admiring the scene we drop down to Gokyo (4,750m) for afternoon tea.

Day 11 – A rest day. For those who fancy an early start there is the opportunity to see the sunrise from the summit of Gokyo Ri our first chance of summiting a peak. Or if you prefer you can go in the late afternoon for the sunset views where you get to experience the alpenglow on Everest. Whichever you choose you'll need a warm jacket, hat, gloves, headtorch and camera. A third option is a hike to the 5th Lake which gives unparalleled views across to Everest. Or you can take a mooch around the lake if you fancy an easy option which still affords some spectacular views too.
Day 12 – We descend the Gokyo valley on the East side – a rarely trodden route. The terrain is spectacular and there are hardly any trekkers who take this trail descending to the quiet village of Phortse. Having descended nearly 1,000m you are assured of a great sleep.
Day 13 – Another day when we will see very few trekkers. This time we are taking the high level route to Pangboche. Great trekking and awesome views especially as we approach Pangboche and have Ama Dablam in the windscreen.
Day 14 – A pleasant day of trekking initially along the main Khumbu trail but after an hour or so we veer off to Dingboche. Dingboche is an amazing village nestled at the bottom of the Imja valley with great views of Island Peak (Imja Tse) at the head of the valley and Ama Dablam opposite the village.
Day 15 – A rest day. And today, if you so desire, you can actually have a rest day. Although for those so inclined there is a great vantage point at around 5,050m above Dingboche which can be gained in around an hour and a half.
Day 16 – Next we transfer to the lovely village of Chukkung (4,750m) … the last village in the Island Peak valley.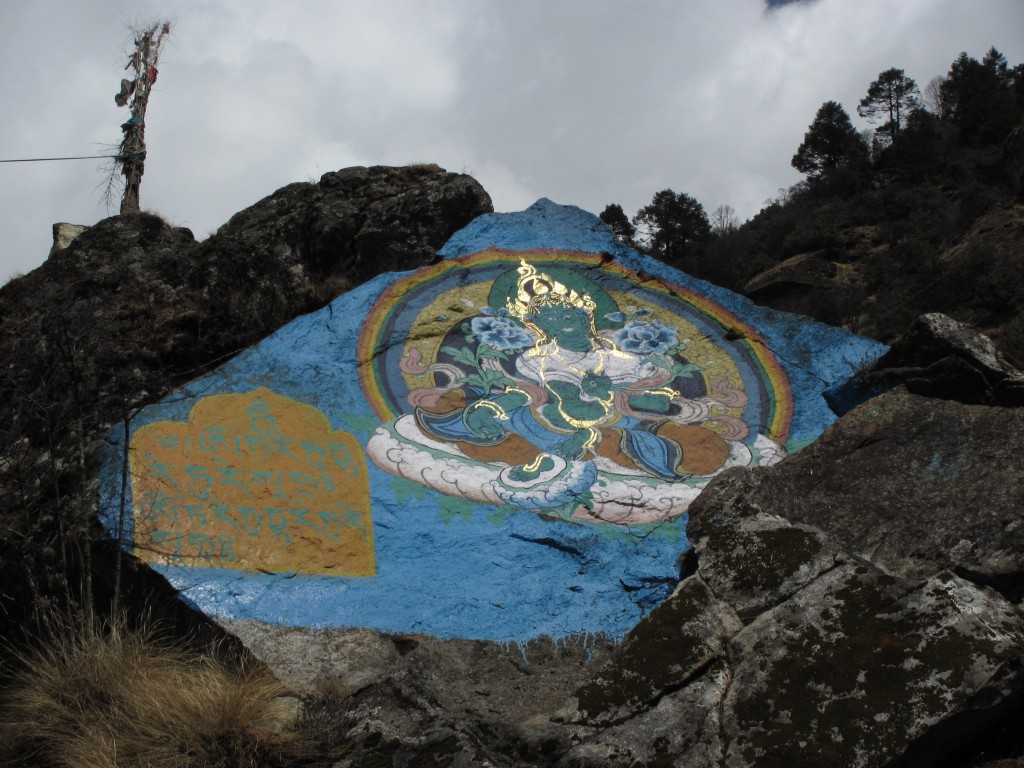 Day 17 – From Chukkung we trek up Chukkung Ri (5,550m), our second peak, which offers some great views of Lhotse up close as well as great views across to Makalu, Baruntse and Ama Dablam
Day 18 – Next on the agenda is the Kongma La pass. We gain height quite gradually and you will be rewarded with some stunning view of Makala (the 5th highest in the world). After crossing the pass we drop down to Lobuche village for the night (4,910m).

Day 19 (14th April) – We now follow the main Everest trail to Gorak Shep – the highest village in The Khumbu situated at 5,250m and after a short break we continue to Everest Base Camp.
Day 20 – There are a variety of options today. Either Kala Pattar, our third peak, for sunrise or perhaps Pumori Base Camp of, higher, Pumori Camp 1 which gives really superb views in to the Western Cwm. Either which way this is the culmination of the 3 weeks' of trekking and it's awesome whatever you choose to do.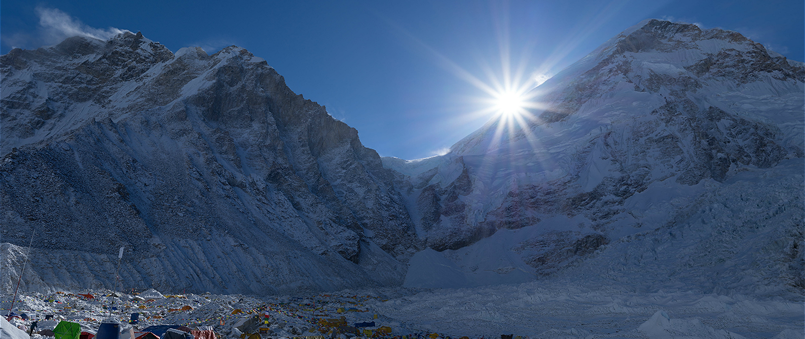 Day 21 – Spare day.
Day 22 – It's time to start dropping back down the valley where we'll be staying at Pangboche (3,950m).
Day 23 – After an hour or so from Pangboche the trail gains a little bit of height to the village of Tengboche where there is an amazing bakery and monastery. After visiting one, or both, of these the trail then drops down to the valley floor and tup the other side to Kyanjuma to stay with Tashi and Lakpa again.
Day 24 – An hour or so from Kyanjuma and you'll be back at Namche bazaar where coffee and cake are calling. Then it's the steady descent to Monjo
Day 25 – And thence on to Lukla. This is quite a short day and is included as it can also be used as a spare day if the itinerary has been compromised elsewhere due to, say, weather or acclimatisation.
Day 26 – It's time to return to the hustle and bustle of Kathmandu where the agent will collect and deliver you to the hotel.
Day 27 (22nd April) – Depart KTM.
---
All in this 4 week trip comes in at only £2,795 (price as at 2022)
This includes all of the following:
3 nights' hotel accommodation in KTM
All group meals in KTM at the beginning of the trip
KTM / Lukla / KTM return flight
KTM / Lukla / KTM departure tax
Teahouses for the duration of the trek and tented accommodation at Base Camp
All group feeding arrangements in The Khumbu
National Park Entrance fee
Trekking permit
Cook crew
Porters
Climbing Sherpa(s)
Insurance for the crew
Administration fee for our expedition agent in Nepal – we use one of the premiere expedition agencies in KTM. They have a proven track record of providing an excellent service, are able to provide full support throughout the expedition and have a tried and tested emergency call out procedure should the need arise
My fee for administration and planning prior to the expedition and technical support, guiding, instruction, planning and logistics during the expedition
Comprehensive 1st aid kit including antibiotics and medicines for use at altitude
Insurance for Base Camp and Sherpa crew
Airport transfers in KTM
What is not included in the costs
International flight (approx £650 – £950. Please arrange a ticket that is flexible so that you can change the dates if you need to head back ahead of schedule. Alternatively I get a quota of tickets through the Travel Agent I have used for a number of years with a 30kg extra baggage allowance. These tickets will be available directly from the Travel Agent – please contact me for their details)
Nepalese entry Visa
Inoculation / vaccination costs
Travel and medical insurance – MUST be valid for trekking in the Everest region
Hire of any equipment for personal use
Tips for the staff (£95 / US$120 in to the kitty)
Excess baggage charges
Drinks with meals in Kathmandu
Any drinks and/or food during the trek other than that which is provided by the crew (e.g. soft drinks, snacks, alcohol, etc etc)
Any teahouse and feeding costs if rest days are taken other than those in the itinerary
Meals in Kathmandu at the end of the trip
Spending money
Any costs incurred if leaving the expedition early
Any international freight charges in the event that your bags don't arrive in Kathmandu from Lukla due to any delays prior to your departure from Nepal.
---
Optional Extras
Single room in Kathmandu – £60 supplement
Island Peak side trip. Climb Nepal's most popular trekking peak. At 6,189m it offers fantastic views over to Makalu, Baruntse and Lhotse. Mainly scrambling with an easy glacier … you need to be competent in using crampons for this peak. Allow an extra 5 days for this trip. £750 supplement
PLEASE NOTE – if you arrive earlier than the suggested itinerary, or depart later, then we can make hotel reservations for you but you will need to settle the bill with the hotel accordingly
---
What Is Next?
To secure a booking for The Everest Base Camp Trek 2023 or 2024 I require a completed application form and a non refundable deposit of 30% of the trip cost per person.
I will also require a copy of your trip insurance which MUST be valid for the trip.
Lastly I require the final balance to be paid in full 8 weeks prior to the trip.
---
Please go to the comprehensive kit and equipment list as well as the 'Health, Hygiene' and 'Altitude' pages which will expand on these areas in more detail.
---
In the meantime 'Live the dream'
Yours – Tim Mosedale