Everest Expedition
by The South Col Route
2023 & 2024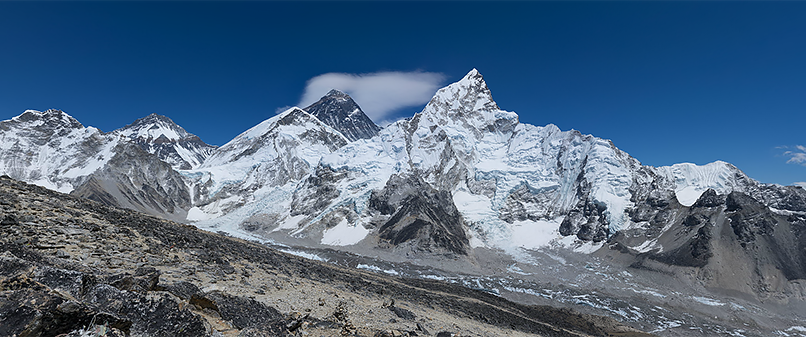 A fully inclusive KTM to KTM Mount Everest expedition including all accommodation, all meals, a superb 3 week trekking and acclimatisation itinerary, individual Base Camp tents, excellent Base Camp services, all logistics and supplies on the hill, a plentiful supply of oxygen, Western Leader and 1.5 : 1 Climbing Sherpa to client ratio.
Have a look at the full list of inclusions
With over 50 expeditions under his belt, including 11 on Everest and 19 on Ama Dablam, you can rest assured you are in experienced hands. Tim Mosedale has summited Everest 7 times including making successful ascents from both the North and South sides of the mountain as well as making a double summit in one season in 2013. Tim has also done the 'high double' summiting Everest and Lhotse back to back as well as making another ascent of Lhotse directly from Camp 3. Have a look at the feedback to find out why you should consider coming along on this Everest expeditions with Tim. It's a lot of money to end up on the wrong side of the mountain or with the wrong group, or worse still, without enough oxygen.
Full service Everest expedition for only US$48,750 (2023. Cost for 2024 tbc)
'Max Os' add on option is only US$7,500
Everest / Lhotse double add on is only US$15,500
Please enquire for various stripped down options (meet at EBC, Permit only etc)
A chance to join an Everest expedition on the South Col route at incredible value. This is a fully inclusive, fully supported expedition on Everest with ample Climbing Sherpas to ensure suitable ratios on the mountain. Also included is a plentiful supply of oxygen and a 1.5 : 1 Climbing Sherpa ratio – in particular you will have Climbing Sherpa assistance from Camp 2 to C3 and from C3 to The South Col and then a very strict 1:1 ratio all the way to the summit and back to Base Camp. And just because it's cheaper than elsewhere doesn't mean that corners have been cut or safety compromised. Indeed, with more inclusions than other expeditions, arguably this is far, far better value for money. Read on ….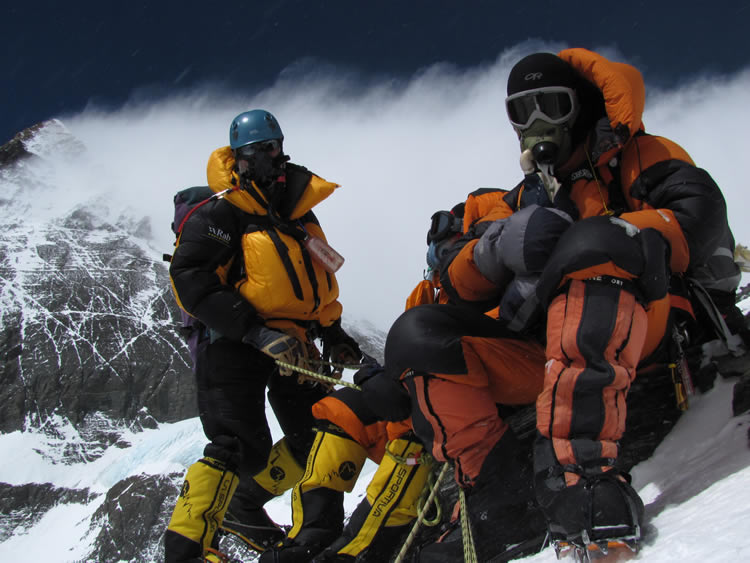 Dates
We will be convening in Kathmandu on Sunday 26th March (feel free to arrive earlier) and will start the trek in on Tuesday 28th March.
Please clear your in tray for the whole of April and the whole of May so that there are no critical appointments that you need to be back for that would otherwise cause any undue pressure whilst we are away.
The idea behind an early start is that we will almost undoubtedly be ready for the first summit window and if you summit early you can always come home early. Having said that, we can also choose to use the middle or the late summit windows if necessary. So if you had an unfortunate bout of illness this wouldn't jeopardise your ability to have a later summit attempt.
Teams who trek in late and arrive late are under an immense amount of pressure to get their group acclimatised quickly which often means them heading up for their rotations sooner than they ought to which can result in acute AMS / HACE / HAPE and a helicopter back to KTM. It also means that they don't have as much choice when it comes to looking at summit windows which means that they cannot avoid the day with the queues.
Sherpa staff ratios
This expedition is generously staffed at 1.5 Climbing Sherpas to each member as standard. This means that there are not only spare staff to reduce the workload for the Climbing Sherpas but also it offers a better uplift for logistics particularly to Camp 3 and The South Col. In particular it also means that we have a better stash of oxygen at The Balcony as well as reducing the number of bottles that your individual Climbing Sherpa will be carrying on the summit day.
Oxygen
Talking of oxygen there are 9 bottles allocated per team member which allows for a generous 3L/min flow for summit night.
If you would prefer an extra 30% boost then the Max Os option of 4L / min requires a few additional bottles and a 2:1 ratio for the summit bid – but comes in at only an extra US$7,500. Most of this additional cost is for the extra Climbing Sherpa so it is money very well spent giving not only better oxygen flow but also a tighter Climbing Sherpa ratio for the summit bid.
Money
The cost of the trip is US$48,750 which is extremely competitive … particularly when you take into account the length of the trek in, the oxygen provision and the staffing ratios.
We won't have a cinema screen and a sofa but we will have a laptop and some speakers. We won't have a cappuccino machine and a barista but we will have plenty of excellent snacks and goodies for the mountain like beef jerky, cheese, olives, cashew nuts etc
The deposit is US$10,000 payable to a US$ account in Kathmandu. This is refundable (less transaction fees) until the middle of January after which it becomes totally non refundable as I will be making commitments that require financial guarantees.
The balance will be due by the end of February.
Flights
Personally I buy a single ticket to get to Kathmandu which then allows me greater flexibility when it comes to departure time. That way you are not tied to a particular date with a particular airline and there's no transfer fees for bringing the flight forward.
Kit and Equipment
Generally speaking the only extras that are needed beyond a regular mountaineering wardrobe are an 8,000m suit, an 8,000m sleeping bag, 8,000m mitts and a pair of 8,000m boots. Other than that you probably have all the necessary clothing and equipment already. Please see the Everest Kit List for a comprehensive breakdown of what is suggested. If you would prefer not to be making additional purchases right now then check out Expedition Kit Hire for the suit, sleeping bag and boots.
The itinerary
The days on the trek in are generally 3 to 5 hours' worth of reasonably gentle hiking with the occasional longer or tougher day (crossing the Renjo La – around 6 hours over a 5,350m pass, Gokyo to Phortse – a 5 to 6 hour day with almost 1,000m of descent and Kongma La – around 5 to 6 hours crossing a 5,450m pass). There are a few acclimatisation days thrown in for good measure (hiking to 4,800m above Thame, hiking to 5,000m above Marlylung, hiking to 5,100 above Dingboche and hiking to 5,500m above Chukkung).
The extra time that we take compared with other teams allows you to decompress from work, recalibrate to the expedition life and gives plenty of time for mentoring during the trek in.
By the time we arrive at Everest Base Camp you will be really well acclimatised having been to moderate altitude a number of times meaning that Everest Base Camp is not suddenly your highest altitude. The idea is to have a gentle ascent profile to get you into tip top shape ready for the rotations up to C1 and above.
Once at EBC we will have a familiarisation day in lower stretches of the Khumbu Icefall to around 5,600m and we will take a hike to Pumori Base Camp / Pumori Camp 1 (around 5,600m to 5,800m).
It will then be time to go to Camp 1 (around 6,050m) for two nights and on to Camp 2 (6,500m) for two or three nights before descending to EBC.
After a rest there will be one more foray to Camp 2 for a few nights during which time we'll touch Camp 3 (7,050m) before a descent to EBC. We're then ready for the summit bid and are likely to have completed our rotations by the first week of May.
After resting up at EBC (or lower), and when the weather is looking suitable, it's then time to go to C2 for two nights before transferring on up to C3 for a night on the way to The South Col and thence to the summit.
Check out the detailed breakdown of the itinerary
Fitness and training
I cannot stress enough that it is not all about fitness on Everest … although being fit will obviously help.
It is more about your ability to look after yourself on a daily, and sometimes hourly, basis with particular attention to hydration.
It is mostly about your state of mind and having a positive mental attitude. It's about self belief and knowing that although it is hard and slow you have the tenacity to keep on going for a while longer.
It's about maintaining yourself on summit night and attending to your needs before you actually need them … keeping your digits moving, drinking and eating along the way, going at a steady pace so as to not get breathless, being aware of your environment and the ever changing conditions and reacting accordingly.
Your Climbing Sherpa cannot tell if you are too hot or too cold, hungry or thirsty so you have to take control of those factors and do something about it. You have a lot of control of the situation so don't let those opportunities go to waste.
To that end I highly recommend that your training errs towards long steady days on the hill rather than micro visits to the gym. Yes, the gym is better than the sofa but the great outdoors is also better than the gym.
Admin and paperwork
All the necessary paperwork will be forwarded to you in January for completion by the middle of February.
Any other business
Please remember that there's no such thing as a silly question. It's better to come mentally prepared and focussed with a reasonable idea about what to expect. I'll try and take away a few of the unknowns whilst we are trekking in and we'll have sessions discussing the avoidance of frostbite, effects of altitude, what to expect higher up, using oxygen, high altitude medication etc
Having said that, there will be certain aspects that you will undoubtedly want to cover before the trip so please feel free to ask about anything that you would like to discuss further. It is better to ask than not ask.
---
A fully supported, fully inclusive, expedition.
Tim and the Climbing Sherpas will be operating on the hill throughout the duration of the trip. The Climbing Sherpas will be very busy getting camps established and stocked with all the necessary food, gas, supplies as well as stocking the higher camps with oxygen – it is later in the trip that they will then be assigned to their guiding duties.
The Climbing Sherpas get directly involved on a 1:1 basis from Camp 2 onwards where they will carry your sleeping bag to C3 and then continue with you to The South Col the next day. They will then accompany you all the way to the summit of Everest and back. They will then escort you down to C2 and continue with you all the way to Everest Base Camp the next day. During the summit phase it is also not unusual for another spare Climbing Sherpa to deliver a set of spare oxygen bottles to The Balcony to cover unforeseen circumstances (better to have it and not need it …). This is undoubtedly a very good, safe and slick operation with a very good ratio of very high quality experienced Climbing Sherpas for the summit bid.
Our Base Camp and mountain services will be provided by Himalayan Guides who I have worked with for 19 years now. They run a tight ship, have an excellent cook crew, some of the best Climbing Sherpas on the hill and they have a very high success rate of getting clients to the top (over 85% success rate and usually more). And this is the percentage from the whole team, not skewed figures by stating the percentage from, say, The South Col, which sometimes is quoted.
Tim will be spending time with the group for the duration of the trip, from the 3 week trek in where we go over 2 high passes and ascend an acclimatisation peak, as well as time at Everest Base Camp and guiding and mentoring high on the mountain (see the acclimatisation schedule for more information).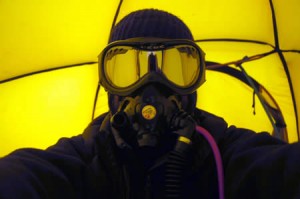 All group members will be fully trained in the appropriate techniques required to negotiate any fixed ropes using jumars and belay devices for going up and down the mountain and we will also spend time looking at how to negotiate up, down and across ladders. All members will also be made aware of how to use the oxygen systems and we will discuss the benefits and drawbacks of various flow rates and protocols. We will be using SummitOxygen masks – which are state of the art and the best you can get. We also have the latest in regulators, which far exceed the quality of the traditional Poisk ones.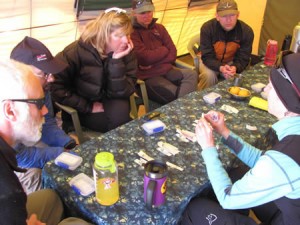 The other life saver is that everyone will be issued an individual set of ultra high altitude medication, know what it is for and, most importantly, know how to use it. We will discuss the pros and cons of how to administer medication, and everyone will be well versed in how to draw up and administer an injection. When you bear in mind that these drugs are life savers, and that they are given to allow recovery down the mountain rather than to progress further, it is vitally important that this subject matter be taken seriously. There have been several cases in the last few years where, if an injection had been available and had been given correctly, lives would undoubtedly have been saved. There is no point having only one set of drugs amongst the group as the person with the medication may not be readily available. And there is more to giving an injection that you might assume – for instance, if you stab someone through their jacket you may plug the hole with a feather.
You will know not only what medication we have, and what it is for and when to use it, but you will also be shown how to draw up and give an injection. It could be an absolute life saver.
Not all teams to adopt this approach. Personally I think it's highly irresponsible to be on the mountain without not only the knowledge but also the ability to do something about it as well. And because we all have a mini set of ultra high altitude medication then we aren't faced with the situation that once the only set has gone then it's all gone.
---
At US$48,750 on the Everest South Col route, this one of the best value Everest Expeditions around.
So why is it cheaper compared to some of the prices you may have seen?
Well as you are probably already aware I don't have an office, administrative staff, networked computers, a company car or a brochure and so my overheads are much lower.
But please rest assured that I am extremely professional about what I do and I endeavour to provide as good a service, if not better, as many of the other expedition companies.
If you require a testimonial from clients from previous expeditions please have a look at their feedback or if you want to speak to them directly please contact me and I will put you in touch.

---
So who is it for?
I am trying to recruit people who I think have the right approach and demeanor and have the kind of drive, motivation and ambition to achieve a summit attempt on Everest. That is then tempered with trying to recruit a team of people who all have the right characteristics and personalities to form a strong, safe and dynamic team.
If you would like to join them I'm afraid that it won't be as simple a just signing a cheque. I will need to have a comprehensive mountaineering cv from you, I will definitely need to chat to you and preferrably we will meet as well.
I'll make it as comfortable and as fun as possible for the team at Everest Base Camp – it's a harsh and arduous environment and it's tough enough already without having people who don't get along so well. More so the higher we go.
I suppose that it would be fair for me to say that I am trying to give you the opportunity to come along on the mountain in a similar style to how I did it in 2005 – a bunch of mates on a BIG mountain rather than a group of disparate clients. This certainly worked for the teams in 2011, 2013, 2016 and 2017 and we had a great trip each time with excellent success rates. (I was also there in 2014 and 2015 as well but sadly we came away empty handed due to circumstance well beyond our control).
As you may be aware I try and make sure that my trips are fun and safe as well as being comfortable and relaxed when having down time – having said that it is a very serious business and we aren't there on a jolly. But at least when we are having some down time let's make sure that it is enjoyable. When on the hill you won't drink enough, eat enough or sleep enough so it's very important that we enjoy Base Camp and the extra luxuries that are provided.
I will encourage people to carry less on Everest than I usually do on my Ama Dablam trips. Ama Dablam is a much lower and shorter expedition and I try and give people a sense of ownership of the trip. I think if you do a bit of humping and dumping there is a greater reward and sense of achievement at the end.
On Everest, however, there will be less for you to carry because of the sheer size of the mountain, the elevations that you will be operating at and the longevity of the trip. You will still have ownership of the trip in other ways, I just don't want to jeopardise your health and well being by making it any harder than it already is.
Please remember, though, just because you apply doesn't mean that you will be accepted (why not?).
x-x-x-x-x-x-x-x-x-x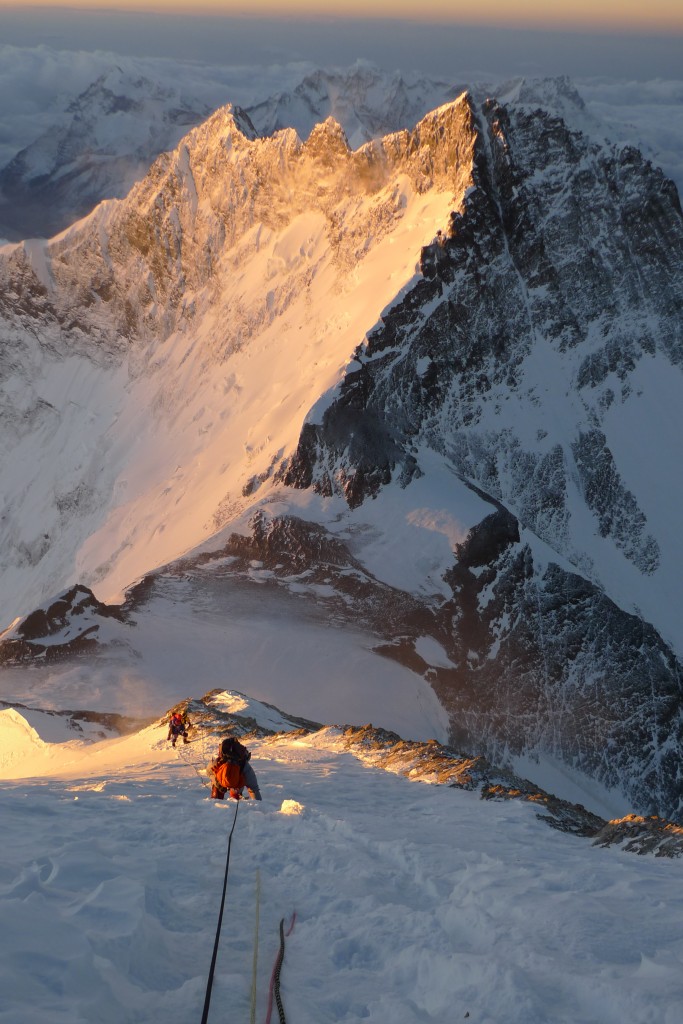 So…
Experience at moderate altitude is preferred but not necessarily essential – it is appreciated that not everyone has the time to build up a huge mountaineering CV. The main prerequisites required for an Everest expedition are :-
It is essential that you are absolutely competent in the use of crampons and ice axe before you come on the trip
You are an independent climber and mountaineer in your own right and can make safe and learned decisions about the skills required for certain situations (for instance, you know when and how to abseil; you don't need telling that it is getting dark and that it would be a good idea to get your headtorch on; you generally remember to apply suncream before it is required; you appreciate that water is more important than food and food more important than sleep when you first arrive at a camp – more on these and other issues to follow during discussions on the trek in)
You will turn around – even if you are only 30 minutes from the summit of Everest – if the decision is made for you
I'll just repeat that one. You will turn around – even if you are only 30 minutes from the summit of Everest – if the decision is made for you
Apart from that I am looking to appeal to those of you out there who want to climb the highest that there is. It's a special achievement. It won't make you a special person but it's an achievement that will live with you for the rest of your life.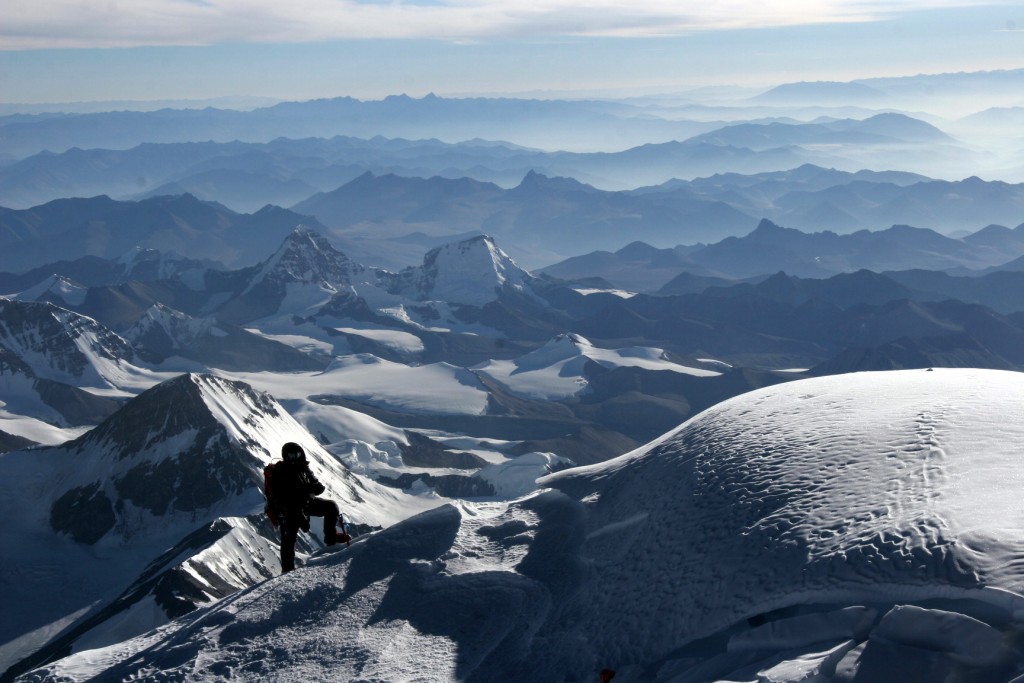 And what is next?
If you are at all interested and wish to discuss this further then please do not hesitate to get in touch.
You can e mail on tim mosedale at gmail.com or telephone on 0044 (0) 17687 71050 or 0044 (0)7980 521079
There are ample further notes for perusal so please have a look around the site and don't hesitate to get in touch for more information if you require it.
If you have friends who would like to accompany you on the trek in then please refer them to the Everest Base Camp Trek page.
I look forward to hearing from you and hope that you will come and join us for your trip of a lifetime.
In the meantime 'Live the Dream'
Yours – Tim Mosedale