Everest Base Camp Trek
~~~ ~~~ ~~~ ~~~ ~~~
Kit and Equipment list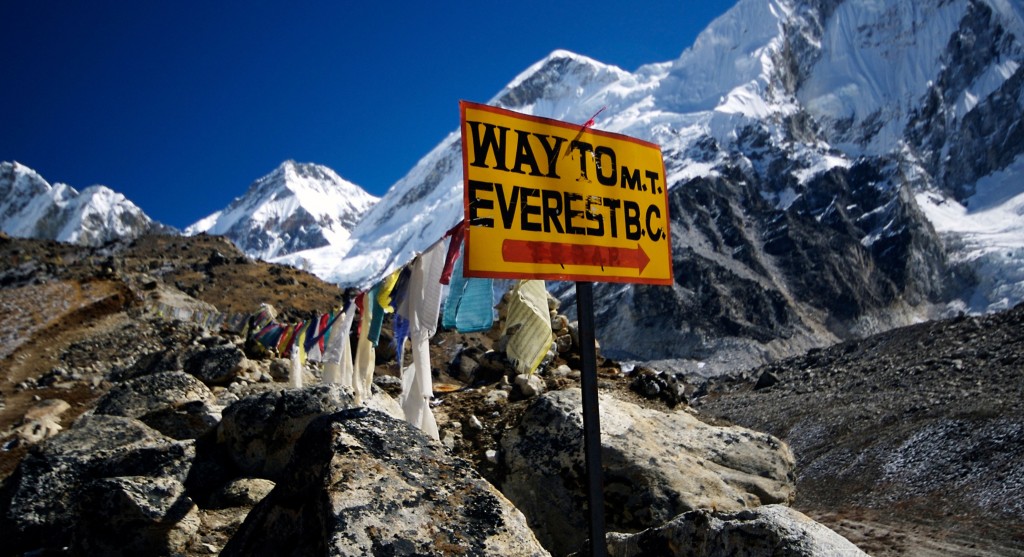 ---
Documentation 
[ ] Passport (must be valid for 6 months after trip).
[ ] Photocopy of the information pages of your passport and 2 x passport photographs (to be sent in advance).
[ ] Visa (can be obtained on entry – 2 x passport photos and £25 / US$40 required. Please note that there are no facilities to obtain photographs at Kathmandu airport). Alternatively contact the Nepalese Embassy to arrange for a Visa in advance.
[ ] Insurance – this MUST include helicopter rescue, repatriation, be valid for Everest Base Camp and the issuing company must accept we may need to instigate proceedings without first contacting them but this is unlikely since we will have use of a satellite telephone. (see here for further details)
[ ] Money – £150 to £250 personal spending for trek and £50 to £100 for Kathmandu depending on souvenir hunting ability (but don't change money at the airport as you will get a better rate of exchange in the Thamel District of Kathmandu).
[ ] There are cash points in KTM so bring your credit / debit card just in case.
---
  Personal Trekking Equipment 
[ ] 35-45 Ltr rucksack (See Note 1)
[ ] Approach shoes (optional)
[ ] Lightweight trekking boots (in addition to approach shoes just in case it snows during the trek and you can therefore avoid getting cold wet feet). Something that is reasonably substantial like the Trango Evo , Scarpa Rebel or a suitable alternative.
[ ] Gaiters (again just in the event that there is any snowfall during the trekking phase). These are available in Kathmandu.
[ ] Lightweight spikes (again this is just in case we have conditions underfoot that may compromise safety). Available in KTM.
[ ] Tevas / sandals (optional)
[ ] Waterproof jacket – lightweight breathable preferred (but not too lightweight e.g. Gore-Tex Paclite, eVent or similar)
[ ] Waterproof trousers
[ ] Duvet jacket (optional for trek but a really superb 'luxury' item).
[ ] Windproof top (optional)
[ ] Fleece (optional)
[ ] Lined windproof (highly recommended instead of the windproof top and fleece mentioned above – Marmot's Driclime, Mountain Hardwear Tempest, Berghaus Rage, Rab VapourRise etc)
[ ] Thermal / wicky tops x 3 min (mix of short and long sleeve). Check out Icebreaker , Smartwool and Macpac 
[ ] Thermal leggings (optional / personal preference)
[ ] Trekking trousers x 2 prs
[ ] Underwear x 3 (absolute minimum!)
[ ] Good quality trekking socks x 4 prs. You can't beat Smartwool . Feel free to bring more.
[ ] Light gloves (depends on your circulation as to how thick they should be)
[ ] Sunhat (baseball style hats not so good as they offer no ear protection from the sun)
[ ] 2 x 1L Water bottles (NOT Sigg bottles – See Note 2)
[ ] 3/4 season sleeping bag (See Note 3). Available to hire in KTM.
[ ] Sleeping bag compression sack
[ ] Sleeping bag liner (optional – but stops your bag getting too soiled and adds extra warmth depending upon type). Available in KTM
[ ] Beanie style hat or silk balaclava (must be comfortable to wear when sleeping i.e. no big seams and poppers to jab you in the head)
[ ] Headtorch. Note:- a decent LED head torch is recommended due to excellent battery life, no spares required and light weight
[ ] Sunglasses (See Note 4)
Go to Sunglasses gear review
[ ] Sunglasses hard case
[ ] Sun cream – Factor 30 or above. (Small tubes preferred)
[ ] Lip salve with sun block
[ ] Toiletries
[ ] Sponge or flannel (makes washing your bits a lot easier)
[ ] Towel
[ ] Small personal 1st aid kit (See Note 5)
[ ] Personal medication (See Note 6)
[ ] Foot powder (optional)
[ ] Wet wipes
[ ] Antibacterial Hand gel (2 x 50ml tubes should suffice)
[ ] Multi vitamins (optional)
[ ] Penknife / multitool (optional)
[ ] Watch with alarm
[ ] Trekking poles (optional / personal preference). It's got to be Leki … or Black Diamond
[ ] Personal stereo + Batteries (optional)
[ ] Camera + Lots of Film / memory + Spare camera batteries
[ ] Personal solar charging system (optional). Check out the gear at Mobile Solar Chargers
[ ] An international plug adaptor for recharging purposes when in teahouses
[ ] Waterproof rucksack liner (the Exped range are great)
[ ] Reading book
[ ] Diary
[ ] Pen
[ ] An old (working) mobile phone with charger. You can buy a SIM in Kathmandu card for around Rs500 and it's about Rs18 per minute to phone the UK (subject to signal of course) rather than £2.00 to £2.50/min. PLEASE REMEMBER your charging cable
[ ] Kitbag for portering (90L) – available in KTM (as long as you can get your gear to KTM in the first place)
[ ] A few heavy duty plastic bags to keep your packed items waterproofed in to your kitbag. Or, better, a selection of coloured drybags so you know what is packed where
[ ] Small combination padlock that fits kitbag zippers (no keys to lose)
[ ] Tips for the crew (£95 / US$120 or the equivalent value of rupees)
---
  Climbing Equipment  (See Note 7)
[ ] Climbing helmet
[ ] Climbing harness
[ ] 1 x 4m length of 9mm cord
[ ] 2 x HMS locking karabiners
[ ] Crampons (available for hire)
[ ] Plastic mountaineering boots (available for hire)
[ ] Jumar (available for hire)
[ ] Belay device / Fig 8 (available for hire)
---
Notes:
1. For the duration of the trip a 35-45L rucksack will be sufficient. On a daily trekking basis you will be carrying minimal personal equipment (water, camera and film, sun cream, fleece, waterproofs, head torch, hat, gloves etc) and the porters will be carrying the rest of your gear that is in your kitbag. You can usually get away with using these for hand luggage on the international flight as long as it doesn't exceed the airline weight limit.
2. Nalgene Lexan wide neck preferred – won't burn your hands when it's hot, easy to fill with hot water and won't stick to your lips when cold. If bringing a Platypus / Camelback then you also need a 1L wide necked water bottle. Please DO NOT bring Sigg bottles. They are a nightmare to fill with hot water, they will invariably burn you if you use them as hotties in your sleeping bag, you'll spill water everywhere when you try and fill it from a kettle at meals times, they are prone to leaking if dropped or damaged and will stick to your lips when they are cold. Don't say I didn't warn you!!
3. This depends upon your circulation and metabolism so please buy (or hire) accordingly. If in doubt, though, err on the side of caution. The teahouses have duvets and blankets available but you will need a decent sleeping bag for when we are under canvas when we trek up and over the Kongma La. This takes us to a couple of great camping spots and afford some of the best views in The Khumbu. Available for hire in Kathmandu.
4. Glasses should provide 100% UVA/UVB block. Category 3 lenses are fine for the trek in but category 4 are better especially at higher altitudes or if you are particularly sensitive to the sun. If you want to look chic then sunglasses are fine but they need to hug the cheeks well and mustn't allow excessive amounts of light to be reflected from the snow and rocks around you in to your eyes. Alternatively glacier glasses with detachable side pieces may be the answer.
Go to Sunglasses gear review
Back to kit list
5. Plasters, blister kit, paracetamol, throat lozenges, re-hydration salts, immodium, dextrose tablets. Please note that Diamox and antibiotics such as Amoxycillin and Ciprofloxacin are also readily available in KTM and I will be more than happy to purchase them in advance of your arrival if required. There will also be a comprehensive expedition 1st aid kit but it is handy if you have a few bits and pieces to be able to deal with minor injuries and ailments yourself whilst on the mountain. For more information please read the 'Health, Hygiene' and 'Altitude' pages which will expand on this in more detail.
6. I need to be notified of any personal medication that people may be bringing so that I can prepare the group 1st aid kit accordingly. I will also need to know of any allergies to food or drugs that members may have. This will all be in confidence unless it is deemed important enough for other members to know about – in which case this will only be done with your consent.
7. The ascent of Island Peak is an optional extra … but if you are intending on giving it a go you will need some basic climbing and mountaineering equipment. It's a classic 6,000m peak and affords magnificent views.
---
Whilst this is a comprehensive list you will know what items of clothing and equipment you regularly use and what works well for you. If you have any questions about what is required, or what can be hired, then please do not hesitate to contact me.
Yours – Tim Mosedale