Everest Expedition

Typical trekking and acclimatisation itinerary
---
Obviously there will be a degree of flexibility to allow for changes to the weather, individual acclimatisation, illness etc but the rough itinerary for the duration of our expedition is as follows:-
Day 1 – Arrive Kathmandu (KTM). You will be met at the airport and transferred to a 4* Hotel on the outskirts of Thamel. We will then pop in to town for our first group meal (meals in Kathmandu at the start of the trek are included in the cost of the trip).
Day 2 – Sightseeing trip in the morning (transport, guide and all entrance fees are included). Meet for lunch. Sort gear / final preparations for the expedition in the afternoon.
Day 3 – Early morning flight to Lukla (2,800m). This is the flight of a lifetime. After our early morning departure we'll arrive in Lukla and transfer to our lodge for breakfast. After sorting the gear in to loads we start trekking. We follow the easy trail, stopping for lunch along the way (again all meals en route are included in the price) and gradually descend in to the valley bottom. We use teahouse accommodation for the trek in and our first stop is at Phak Ding (2,650m), or better, a little further to Monjo. Around 4 to 5 hours of easy trekking.
Day 4 – After breakfast we start on the trail along the side of the Dudh Kosi (Milk River) which originates from the Khumbu Glacier some 30 miles away. We cross the river 4 times on the route today on some quite exciting (but very well constructed) suspension bridges. We enter the National Park at Monjo and then make our way gradually up the zig zags to Namche Bazaar (3,450m).  In Namche Bazaar we convene at the Everest Bakery for Coffee and Chocolate Doughnuts and then continue along the trail to stay with my good friends Tashi and Lakpa at Kyanjuma. All in all about 4 and a half to 6 hours of walking. (Interesting point to note … Tashi & Lakpa visited the UK in January 2014 for an audience with HRH The Prince of Wales. Lakpa was one of the Sherpas when Prince Charles visited Nepal in the 80s and was invited for an audience with His Royal Highness at Clarence House).
Day 5 – A rest day. But when we say rest day it merely means that we will stay at the same teahouse – in the meantime we will go up an exciting 'hidden staircase', an amazing construction, and follow the trail to the Mong La (3,950m) where we will have lunch. We'll then descend back down to Kyanjuma in time for afternoon tea. At some stage today we'll also visit Tashi's amazing prayer room.
Day 6 – Today we transfer to Thame. We go up to Kyanjuma and see the amazing Mani walls (the longest mani walls in The Khumbu) and then crest a col and drop down to Syangboche where we stop for elevenses. We then follow a great trail through a beautiful, wooded valley, to Thamo, where we stop for lunch before continuing to Thame (3,800m). Around 6 to 8 hours of easy walking.
Day 7 – Another rest day. But again, it doesn't mean that we rest. Today we go to the most amazing monastery, set in the hillside a short walk above Thame. There are some fantastic painted mani stones along the way and we visit the monastery for a puja.
Day 8 – A lovely walk up the quiet Thame valley to the village of Marylung (4,150m). A short day (around 3 hours of walking).
Day 9 – Another acclimatisation day where we trek up to around 5,000m before dropping back down to stay for another night at Marylung.
Day 10 – Today we cross the first of the high passes – The Renjo La. It is an easily accessible pass with a great staircase – but it is at 5,345m and the altitude will make it slow going. The views when you get there are well worth the effort involved. After admiring the scene we drop down to Gokyo (4,750m) for afternoon tea.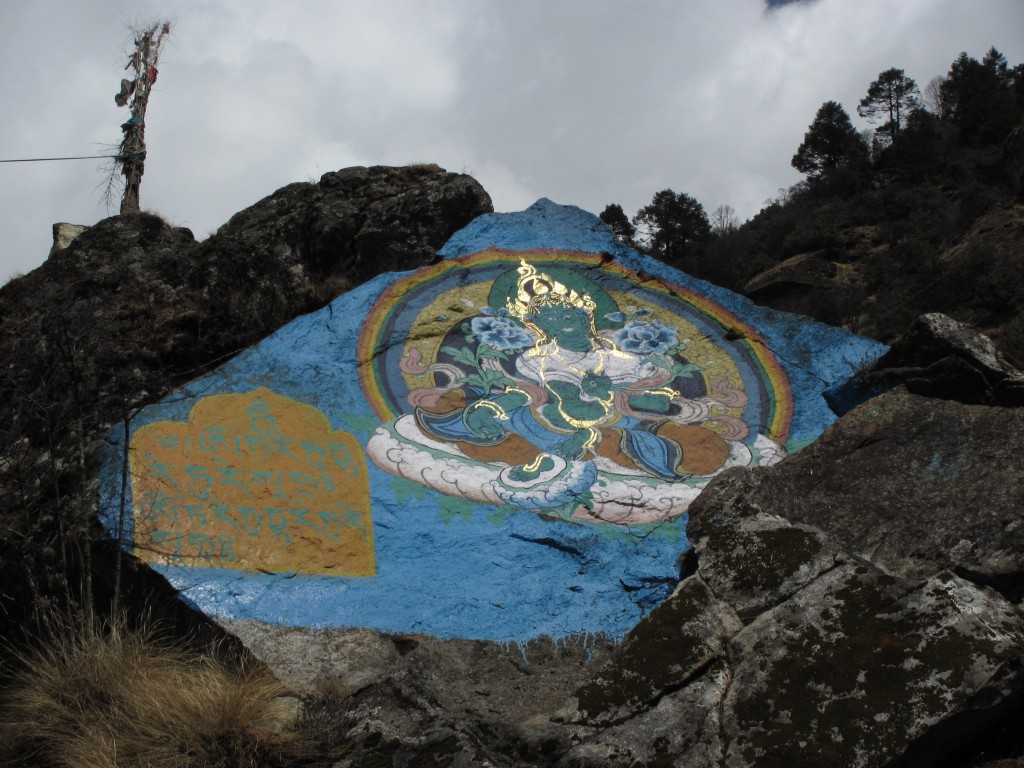 Day 11 – A rest day. For those who fancy an early start there is the opportunity to see the sunrise from the summit of Gokyo Ri. Or if you prefer you can go in the late afternoon for the sunset views where you get to experience the alpenglow on Everest. Whichever you choose you'll need a warm jacket, hat, gloves, headtorch and camera. Or you can take a mooch around the lake if you fancy an easy option which still affords some spectacular views.
Day 12 – We descend the Gokyo valley on the East side – a rarely trodden route. The terrain is spectacular and there are hardly any trekkers who take this trail descending to the quiet village of Phortse.
Day 13 – Another day when we will see very few trekkers. This time we are taking the high level route to Pangboche. Great trekking and awesome views especially as we approach Pangboche and have Ama Dablam in the windscreen.
Day 14 – A pleasant day of trekking initially along the main Khumbu trail but after an hour or so we veer off to Dingboche. Dingboche is an amazing village nestled at the bottom of the Imja valley with great views of Island Peak (Imja Tse) at the head of the valley and Ama Dablam opposite the village.
Day 15 – A rest day. And today, if you so desire, you can actually have a rest day.
Day 16 – Today is a short hike to Chukkung to gain a few hundred meters elevation where we are then poised for our crossing of The Kongma La
Day 17 – A great hike today to ascend Chukkung Ri – 5,550m and great views of Lhotse and Makalu
Day 18 – We trek up and over the pass and descend to Lobuche village. A great day with fantastic views from the Kongma La lake camp
Day 19 – We now follow the main Everest trail to Gorak Shep – the highest village in The Khumbu situated at 5,250m. From here we continue to Everest Base Camp where we will move in to our encampment where we will be based for the next 4 or 5 weeks
Day 20 – Rest day. Plenty of time to unpack and get ourselves orientated to our new home.
Day 21 – Puja. The Base Camp puja is all a part of the expedition experience but it is also a very important blessing – in particular for the Climbing Sherpas. Depending on the auspicious dates in the calendar this may be on another day but there is plenty of flexibility to allow for any changes.
Day 22 – A reconnaissance day in to the lower stretches of The Khumbu Icefall. Partly this is to acquaint ourselves with the lower section of the route but importantly it is to have an introduction to some of the skills you will need to be moving safely through The Khumbu Icefall and on up to Camp 1.
Day 23 – Another rest day and a day to be packing our gear to get ready for …
Day 24 – We move straight through The Khumbu Icefall and establish ourselves at Camp 1 (around 6,000m).
Day 25 – Depending on how people feel we may spend a second night at C1 or we may move to C2 at 6,400m (and indeed the group can quite safely split according to how they are acclimatising).
Day 26 – Transfer to C2 or a second night at C2 if already there.
Day 27 – Descend to EBC. Rest for the remainder of the day. Have a shower, plenty of drinks and lots of snacks.
Day 28 – Rest day.
Day 29 – An early morning start to transfer directly to C2.
Day 30 – Rest day at C2 where we are catered for by our Camp 2 cook crew.
Day 31 – An acclimatisation day where we ascend to Camp 3 (7,100m) and loiter for a few hours before descending back to C2.
Day 32 – Return to EBC.
---
We are then in a position of waiting for the weather until we get a suitable window forecast. If the weather is looking poor for an extended period we may drop down to Dingboche (4,400m) or Pangboche (3,950m) to chill and relax. Alternatively, if the forecast is looking promising and we don't want to be lower down the valley when we ought to be under starter's orders, we may stay at EBC. Either which way it is time to chill, relax, drink plenty and eat all the snacks we can in readiness for the off. In which case:
Day 1 – Transfer to C2
Day 2 – Rest day C2
Day 3 – Transfer to C3
Day 4 – Transfer to South Col (arrive late morning / early afternoon)
Day 5 – Rest up at The S Col and get ready for setting off in to the night. This also acts as a contingency day in the event that we have already summited and want to rest on the way down
Day 6 – Summit early morning, return to South Col, rest and descend to C2
Day 7 – Return to EBC (early start to get through Khumbu Icefall) or descend to C2 if stayed at S Col the night before
---
Obviously we don't know when the weather will clear and people have summited from as early as 6th May (unusually early) through to the beginning of June (unusually late) with typical windows opening around 15th / 16th , 22nd / 23rd and 25th / 26th May. Not only are we at the mercy of the weather but we also need to make sure that all the logistics are in place and that folk are suitably well acclimatised.
---
The trek out can be anything from a leisurely 4 day stroll to a mad 2 day dash depending on how eager people are to get home and availability of flights. This is where Iswari, our agent, is very good and we have even flown out of Namche Bazaar for only US$350 per person rather than descending to wait in the queue at Lukla.
Once in Kathmandu Iswari and co will busy themselves looking in to bringing flights forward and we will enjoy the crazy sights and sounds of Kathmandu not to mention a few hearty meals and a milk shake.
Or a beer.
---
This is a really good trekking and acclimatisation itinerary that not only gets us off the beaten track but also means that we arrive at Base Camp fit, healthy, really well acclimatised, trained up and ready to go. We make a very smooth transition from fun trekking mode to fun, but serious, expedition mode and as a result of the 3 week trek we can spend less time in the Khumbu Icefall.
As ever, if you have any questions then don't hesitate to ask.
Yours – Tim