Climb Lhotse 2023

A fully inclusive KTM to KTM Lhotse expedition including all accommodation, all meals, a superb 3 week trekking and acclimatisation itinerary, individual Base Camp tents, excellent Base Camp services, all logistics and supplies on the hill, a plentiful supply of oxygen, Western Leader and 1:1 Climbing Sherpa from Camp 3 to the summit & back down to Everest Base Camp.
Have a look at the full list of inclusions
With over 50 expeditions under his belt, including 10 on Everest and 19 expeditions on Ama Dablam, you can rest assured you are in experienced hands. Tim Mosedale has summited Everest 7 times including making successful ascents from both sides of the mountain and making a double summit in one season. He has also summited Lhotse and Cho Oyu as well as a whole range of other ascents in Nepal and elsewhere. Have a look at the feedback to find out why you should consider coming along on one of the best Lhotse expeditions with Tim.
Full service for only US$28,750
Only US$15,500 as an Everest add on.
---
A chance to join an expedition on Lhotse at incredible value. This is a fully inclusive, fully supported expedition with ample Climbing Sherpas to ensure suitable ratios on the mountain. Also included is plenty of oxygen and a 1:1 Climbing Sherpa ratio from Camp 3 and for summit day. And just because it's cheaper than elsewhere doesn't mean that corners have been cut or safety compromised. Indeed, with more inclusions than other expeditions, arguably this is far far better value for money. Read on ….
---
Tim Mosedale – Having started out as a climbing instructor in the UK Tim spread his wings to include working abroad. After 7 years working at an Outdoor Centre he then spent over 10 years as a full time climber and mountaineer and if he wasn't cragging, guiding and instructing in England in summer, or climbing and mountaineering in Scotland in winter, then he was guiding in the Himalayas or in Greenland. He has over 10 years' experience in Nepal and has summitted Lobuche East (5 times), Island Peak (7 times), Mera Peak (twice) and has recently added Ama Dablam to his list of 'ticks' with November 2012 being the 10th trip there. During 6 expeditions to Greenland Tim added over 50 unclimbed peaks to his CV and then went on to summit Cho Oyu in 2006.
As a qualified Mountain Instructor, with a background in logistics and with a whole host of expeditions under his belt it means that you are in safe hands with Tim.
Tim was part of the Karrimor 2005 Everest expedition and successfully summitted from the North side on the 30th May. In 2011 Tim led an expedition on the South Col route of Everest, topping out with 4 clients, to become only the 10th Brit to have summited Everest from both sides.
In 2013 Tim returned to Everest and summited again with another 4 clients – this time making a double summit in one season
To date Tim has seven Everest and two Lhotse summits under his belt.
---
A fully supported, fully inclusive, expedition.
Tim and the Climbing Sherpas will be operating on the hill throughout the duration of the trip. The Climbing Sherpas will be very busy getting camps established and stocked with all the necessary food, gas, supplies as well as stocking the higher camps with oxygen – it is later in the trip that they will then be assigned to their guiding duties.
The Climbing Sherpas get directly involved on a 1:1 basis from Camp 2 onwards where they will carry your sleeping bag to C3, return to C2 and then reascend to C3 the next day to collect you and your sleeping bag and continue with you to Camp 4. They will then accompany you all the way to the summit of Lhotse and back. They will then escort you down to C2 and continue with you all the way to Everest Base Camp the next day. This is undoubtedly a very good, safe and slick operation with a very good ratio of very high quality experienced Climbing Sherpas for the summit bid.
Indeed the Climbing Sherpas are some of the strongest on the hill and have a very respectable number of Everest (plus Cho Oyu, Manaslu and Lhotse) ascents ranging from 4 or 5 summits to an impressive 19 (Padawa summited with clients twice in a week – 2 years on the trot).
Our Base Camp and mountain services will be provided by Himalayan Guides who I have worked with for 17 years now. They run a tight ship, have an excellent cook crew, some of the best Climbing Sherpas on the hill and they have a very high success rate of getting clients to the top (over 85% success rate and usually more). And this is the percentage from the whole team, not skewed figures by stating the percentage from, say, The South Col, which sometimes is quoted.
Tim will be spending time with the group for the duration of the trip, from the 3 week trek in where we go over 2 high passes and ascend an acclimatisation peak, as well as time at Everest Base Camp and guiding high on the mountain (see the acclimatisation schedule for more information). To enable us to have as much flexibility as possible, and to allow for individual acclimatistion schedules, it is not possible to categorically say that the group will always move as a group up and down between the lower camps. There are ample staff to ensure that safety is not compromised but there may be times when you might be moving independently on the mountain (more so at lower altitudes). If this is the case then the norm would be that you will be escorted up or down by someone.
All group members will be fully trained in the appropriate techniques required to negotiate any fixed ropes using jumars, belay devices and prussiks for going up and down the mountain and we will also spend time looking at how to negotiate up and down ladders. All members will also be made aware of how to use the oxygen systems and we will discuss the benefits and drawbacks of various flow rates and protocols. We will be using SummitOxygen masks – which are state of the art and the best you can get. We also have the latest in regulators, which far exceed the quality of the traditional Poisk ones, and can flow at up to 6 litres / min. Very few teams have this facility which is a real potential life saver.
The other life saver is that everyone will be issued an individual set of ultra high altitude medication, know what it is for and, most importantly, know how to use it. We will discuss the pros and cons of how to administer medication, and everyone will be well versed in how to draw up and administer an injection. When you bear in mind that these drugs are life savers, and that they are given to allow recovery down the mountain rather than to progress further, it is vitally important that this subject matter be taken seriously. There have been several cases in the last few years where, if an injection had been available and had been given correctly, lives would undoubtedly have been saved. There is no point having only one set of drugs amongst the group as the person with the medication may not readily be available. And there is more to giving an injection that you might assume – for instance, if you stab someone through their jacket you may plug the hole with a feather.
We are only one of a few teams to adopt this approach. Personally I think it's highly irresponsible to be on the mountain without not only knowledge but the ability to do something about it as well. And because we all have a mini set of ultra high altitude medication then we aren't faced with the situation that once the only set has gone then it's all gone.
Briefings will be held every day at Everest Base Camp to update everyone about progress on the mountain, find out about people's health and to ensure that the appropriate stores and equipment are at the relevant places on the mountain. There will also be daily weather briefings.
For a comprehensive list of what is included (pretty much everything you can probably think of and more) please look at the appropriate pages.
---
At US$28,750, this one of the best value Lhotse Expeditions around.
So why is it cheaper compared to some of the prices you may have seen?
Well as you are probably already aware I don't have an office, administrative staff, networked computers, a company car or a brochure and so my overheads are much lower.
But please rest assured that I am extremely professional about what I do and I endeavour to provide as good a service, if not better, as any of the other expedition companies.
If you require a testimonial from clients from previous expeditions please have a look at their feedback or if you want to speak to them directly please contact me and I will put you in touch.
---
So who is it for?
I am trying to recruit people who I think have the right approach and demeanor and have the kind of drive, motivation and ambition to achieve a summit attempt on Lhotse. That is then tempered with trying to recruit a team of people who all have the right characteristics and personalities to form a strong, safe and dynamic team.
If you would like to join them I'm afraid that it won't be as simple a just signing a cheque. I will need to have a comprehensive mountaineering cv from you, I will definitely need to chat to you and preferrably we will meet as well.
I'll make it as comfortable and as fun as possible for the team at Everest Base Camp – it's a harsh and arduous environment and it's tough enough already without having people who don't get along so well. More so the higher we go.
I suppose that it would be fair for me to say that I am trying to give you the opportunity to come along on the mountain in a similar style to how I climbed Everest from the North side in 2005 – a bunch of mates on a BIG mountain rather than a group of disparate clients. This certainly worked for the Everest teams in 2011 & 2013 and we had a great trip each time with excellent success rates.
As most of you are aware I try and make sure that my trips are fun and safe as well as being comfortable and relaxed when having down time – having said that it is a very serious business and we aren't there on a jolly. But at least when we are having some down time let's make sure that it is enjoyable. When on the hill you won't drink enough, eat enough or sleep enough so it's very important that we enjoy Base Camp and the extra luxuries that are provided.
I will encourage people to carry less on Everest than I usually do on my Ama Dablam trips. Ama Dablam is a much lower and shorter expedition and I try and give people a sense of ownership of the trip. I think if you do a bit of humping and dumping there is a greater reward and sense of achievement at the end.
On Lhotse, however, there will be less for you to carry because of the sheer size of the mountain, the elevations that you will be operating at and the longevity of the trip. You will still have ownership of the trip in other ways, I just don't want to jeopardise your health and well being by making it any harder than it already is.
Please remember, though, just because you apply doesn't mean that you will be accepted (why not?).
x-x-x-x-x-x-x-x-x-x
So…
Experience at moderate altitude is preferred but not necessarily essential – it is appreciated that not everyone has the time to build up a huge mountaineering CV. The main prerequisites required for an Lhotse expedition are :-
It is essential that you are absolutely competent in the use of crampons and ice axe before you come on the trip
You are an independent climber and mountaineer in your own right and can make safe and learned decisions about the skills required for certain situations (for instance, you know when and how to abseil, you don't need telling that it is getting dark and that it would be a good idea to get your headtorch on, you generally remember to apply suncream before it is required, you appreciate that water is more important than food and food more important than sleep when you first arrive at a camp – more on these and other issues to follow during discussions on the trek in)
You will turn around – even if you are only 30 minutes from the summit of Lhotse – if the decision is made for you
I'll just repeat that one. You will turn around – even if you are only 30 minutes from the summit of Lhotse – if the decision is made for you
Apart from that I am looking to appeal to those of you out there who want to climb the highest that there is. It's a great achievement that will live with you for the rest of your life.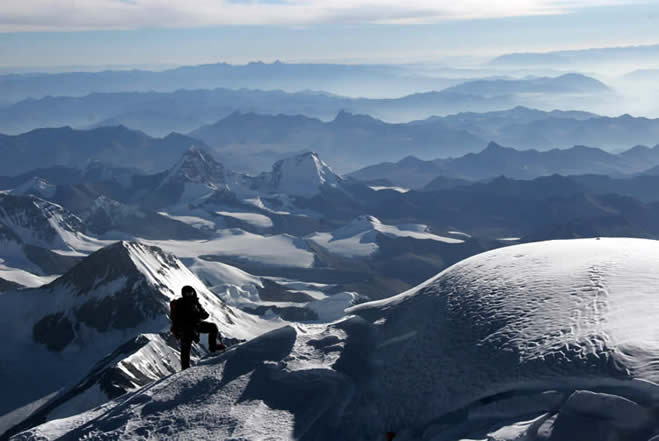 ---
And what is next?
If you are at all interested and wish to discuss this further then please do not hesitate to get in touch.
You can e mail on tim mosedale at gmail . com or telephone on 017687 71050 or 07980 521079
There are ample further notes for perusal so please have a look around the site and don't hesitate to get in touch for further information if you require it.
If you have friends who would like to accompany you on the trek in then please refer them to the Everest Base Camp Trek page.
I look forward to hearing from you and hope that you will come and join us for your trip of a lifetime.

In the meantime 'Live the Dream'
Yours – Tim Mosedale